[vc_row][vc_column width="1/2″][vc_column_text]
The Wuwei Performance Series, inspired by Laozi's teachings of "non-action", is a performance art event that is thought to be necessary in Singapore as the form is not as active as it once was. As the saying goes, "无为而无不为" (no action will come in necessary action). So this is the right time to be active. 
This series of performances will take place in Your MOTHER Gallery. [/vc_column_text][/vc_column][vc_column width="1/2″][vc_single_image image="4436″ img_size="large"][/vc_column][/vc_row][vc_row][vc_column][vc_column_text]Natural Progression with Consideration is Progress
By Richard Chua
Chinese Lao Zi's philosophy has caused many misunderstandings and misconceptions. The very line in which the words of the performance series came from "无为而无不为" has got many different interpretations, even by scholars of philosophy in China and beyond. The words 无为 mean inaction. For a performance art event that predicates its philosophy on inaction, it seems like a contradiction. At a more reflexive level, inaction also plays a big part in performance art events. Marina Abramovic is a female performance artist whose ability to stir emotional responses through inaction has received acclaim in the international arts world. The liminal space that lies between the action and inaction of a performance gives rise to contentions and conflict. In terms of performance vocabularies, that's where contestations take place. However, by doing too much goes against the principle of inaction (无为) where the way of things in the cosmos is to plan and work with the natural flow and not to go against it. In Buddhist philosophy, the idea of cause and effect could be used and read alongside the Daoist philosophy. Cause and Effect not only restricts itself to just personal actions in everyday life, but also one's thoughts about how to respond in everyday life.
Within the confines of life (life and death) and system of nature, there is a significant amount of freedom. It is in this freedom that performance artist could explore to the maximum of their ability, testing the natural system. Performance artists use their bodies as the medium for artistic expression constantly pushing the limits of their bodies, not just physically but also its relationship with the world. One such experiment in Singapore is performance artist Seelan Palay's piece entitled 32 Years: The Interrogation of a Mirror, which has tested the boundaries of a one-man performance art practice to the state's definition of public order. He was charged in court under the Public Order Act. Palay was not the only performance artist who has been arrested. In the history of Singapore performance art, there were a few examples. 1 However, as much as a good number of the performative art practices in Singapore are politically driven, it would be narrow to say that performance art is a political art form. Rather art is inherently political, no matter what form it takes.
Performance art focuses on the temporal, the relationship between time and space as well as the body. Space is also an important site for bodily experimentation. For Wu Wei Performance Series, how does an independent space such as Your Mother Gallery function in the practice of performance art in Singapore? Like all other spaces in Singapore, are they merely a site where creative production takes place and not discourses? From 1990, the founding of Singapore first independent arts space The Substation till now, and all other spaces that existed in between, to what extent are their contributions to the artistic discourse in Singapore? It is a timely question to be researched and answered. As far as I know, the Independent Archives (IA) has been diligently engaged in this project.
In Wu Wei Performance Series, artists intend to respond to many different socio-cultural phenomenon and situations in and out of Singapore. Urich Lau's video project provides an alternative reading of the Singapore National Arts Council, the national funding body of the arts in Singapore. Eve Tan's piece on the existence of sex workers in Singapore, and Min Hyung's personal reflection of the presence of nationalist sentiments in Singapore, especially the recent visit of the DPRK leader Kim Jong En to Singapore.
Responding to the materials and form of artistic expression, Nicole Phua uses peanuts as her point of entry. In the same vein, A'Shua Imran uses ropes and his learning of a rope-tying technique named Shibari to explore human connections. While Justin Lee's banana drawings led themselves to open reading and interpretations, Jeremy Hiah's big self-made 'telephones' involving 2 cones might be a timely reminder to all of us on the need to listen to one and another.
Whether Wu Wei Performance Series would achieve an action predicated on inaction is not the point, but the discussion and discourse that could emerge from the art practices make a collective capacity building and knowledge building meaningful. However, meaning could only be constructed based on constant construction and deconstruction of the power and political structures of space, society and the bodies.[/vc_column_text][/vc_column][/vc_row][vc_row][vc_column width="1/3″][vc_column_text]
Urich Lau, born 1975, is a visual artist, independent curator and art educator based in Singapore. Working in video art and photography, he has presented works across Asia, Europe, Central Asia, Australasia and North America. He graduated with Master of Fine Art from Royal Melbourne Institute of Technology in 2004. He is a lecturer at LASALLE College of the Arts, a founding member of the art collective INTER–MISSION, a member of The Artists Village, Instinctive (INSTINC Art Space), and resident artist at Goodman Arts Centre in Singapore.
https://sites.google.com/site/urichlauwy/[/vc_column_text][/vc_column][vc_column width="1/3″][vc_column_text]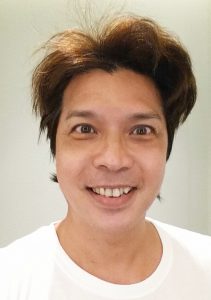 Justin Lee is a Singaporean visual artist and designer. He has participated in numerous artist-in-residence progammes in Japan (Fukuoka, Studio Kura 2012/14, Itoshima Art Farm-2014, and Tokyo Youkobo-2013). After his graduation with a Diploma in Visual Arts (Fine Arts), he was one of the selected local artists trained at the Tyler Print Institute in New York. Over the years, he has participated in numerous exhibitions held in Singapore and internationally (2000-2002).
As one of Singapore's foremost pop artist whose design projects reflect a fine sense of contemporary design flavoured with an essence of Singapore traditions, Justin's work deserves accolades as both designer and artist. His approach to design is executed with current graphic fundamentals yet reflecting traditional techniques such as his on-going series based on paper-cutting and Chinese woodblock printing styles. The themes and imagery with which he interprets his commissioned design work underscore familiar Asian cultures with a delightful pop treatment that celebrates Asian values in an endearing tongue in cheek manner.
Justin is both an accomplished artist and graphic designer whose work has been recognised through commissions by SAM, the Esplanade and the New Majestic Hotel. Earlier in his career, he had been handpicked as one of 6 of the STPI's first interns to work with world renowned artists such as Frank Stella and Donald Sultan. He believes that art play an important part in helping people to grow and to see the important role play and awareness of themselves. His works also reflect on words and images from the mass media like signage, billboards and consumer products which control our thoughts and expression.[/vc_column_text][/vc_column][vc_column width="1/3″][vc_column_text]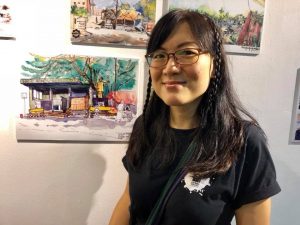 Eve Tan has been working in the art industry for the past twenty years and has participated in several art projects and exhibitions. Including programmer manager for Art of Speed and Big Draw '15 at Playeum, committee organiser for the 6th International Urban Sketchers Symposium and programme curator for My HeARTland Carnival for MediaCorp, Channel 8. Eve sees creative projects as connected to the dirt and champagne of everyday life.
As a designer, she is specialising in design for theatre and festival, such as A Nation In Concert, Brokenville, Romeo and Juliet, Maha Mela and Festival Village in 2001 & 2002. She was the art director for Studio Disney @Disney Channel and U Pick Live @ Nickelodeon TV.
As a wardrobe styling for theatre production and Singapore films, such as 7 Letters (Boo Junfeng), Blood Ties, Kallang Roar the movie and Singapore Dreaming. As an artist, she works primarily in watercolour and ink. Her works were featured at Your Mother Gallery recently.
Eve loves working with art and nature, she has conducted children art workshop at Substation, Playeum, Toa Payoh playground and Community Centres. Finally, as the Co-Partner of Twogaether, she would like to see artists from different fields such as music, theatre, literature, visual arts, as well as maker/artisan, work and support each other's and working on projects that benefit the social needs.[/vc_column_text][/vc_column][/vc_row][vc_row][vc_column width="1/4″][vc_column_text]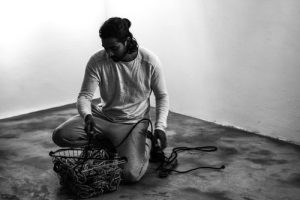 A'shua Imran (b. 1986) is a Singaporean artist working predominantly with painting, performance, photography & installations. He began his studies at LASALLE College of the Arts (Singapore) and received a Bachelor of Arts in Fine Art (Goldsmiths, UK) in 2014. He has participated in several exhibitions and presented his works in Singapore, The Netherlands, Israel, Egypt and South Africa.
Currently, Imran is the artistic director of Mural Lingo, a Singapore-registered social enterprise engaged in the arts, education and publishing. He founded the independent platform in 2014 with the primary focus on providing an incubation space for young artists, designers, and undergraduates to develop their professional practice.
He regularly offers talks and workshops in educational & cultural institutions, and participated in a artist-in-residence programme for 3 months in 2017, at Bag Factory Studio in Johannesburg, South Africa.[/vc_column_text][/vc_column][vc_column width="1/4″][vc_column_text]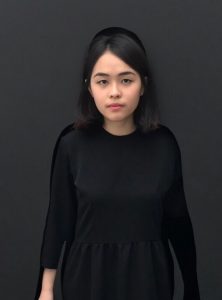 Nicole Phua (b.1997), based in Singapore, is a visual artist working primarily in the form of performance and installation art. She graduated with a Diploma in Fine Art with Distinction from Nanyang Academy of Fine Arts in 2017. She expresses her journey towards spiritual enlightenment in her multimedia works, dealing with the issue of death and life. She has been commissioned to paint by Art Apart Fair 9th Edition and Singapore Armed Forces and has also received Raffles Country Scholarship Award and Kwan Im Thong Hood Cho Scholarship Award. She is currently an art teacher in Art Village, Singapore.
Website: www.nicolephua23.weebly.com
Instagram: @not23.pjj[/vc_column_text][/vc_column][vc_column width="1/4″][vc_column_text]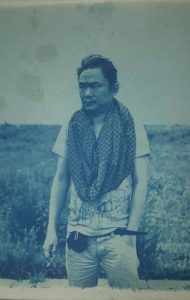 Jeremy Hiah has been involved in the arts since 1993. His works are about the social system, how one lives in society. He has explored many different art media and collaborated with many different artists working in a variety of fields. His works travelled to many different countries: Germany, Italy, Austria (for UNESCO Artists in Residency Vienna), Hong Kong, Vietnam, Indonesia, Australia, South Korea, Thailand and China, in different festivals, exhibitions and residencies.He has been an active organizer and member of The Artists Village and Sculpture Society (Singapore). Formerly, in 2001, he was Vice President of The Artist Village, and in 2005, the Vice President of Sculpture Society. Locally in Singapore, he has taught in numerous secondary schools, junior colleges and polytechnics.  He established independent arts space Your MOTHER gallery in 2004. He was also the artistic director of Fetter-Field Performance Art Event held in 2006 and 2012. From 2011 to 2016, he was Artistic Director of Pulau Ubin Artists Residency Program.[/vc_column_text][/vc_column][vc_column width="1/4″][vc_column_text]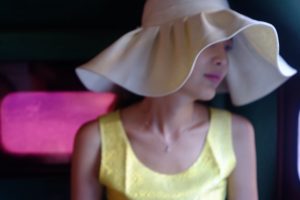 Colour of Hyung Min is changing. Today, she has a different tone than yesterday. What colour will she be tomorrow? Just a dream.
나에게 가는 길
IU
IU
I walk
U mark
I run
U line
IU
IU
비/bi/ river
In between lines and marks
비/bi/ river
Somewhere in between
비/bi/ river
Somewhere to be happy
I
U
I
U
[/vc_column_text][/vc_column][/vc_row][vc_row][vc_column][vc_masonry_grid post_type="post" max_items="10″ grid_id="vc_gid:1529048385603-c2b2cd60-77ed-3″ taxonomies="107″][/vc_column][/vc_row]